Essential Benefits of Taking Care of Landscaping | Yard Debris Removal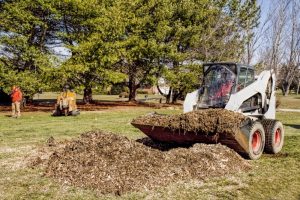 It's easy to get so focused on the details you want your professional landscaper to add to your yard design and lose sight of what needs to be taking away. This is where the important task of yard debris removal comes into the picture.
You can beautify until your yard looks magazine cover ready, except for the lingering issue of debris. It's common for organic matter to build up.
From trimmings or weather or just time, it's impossible to not have some of this type of debris. However, as it collects, it's important to deal with removal.
Why Debris Removal Matters for Your Property
You don't have to get complete land clearing, but you could still use yard debris removal. Maybe you can even ignore it for a little while, but here's why you shouldn't:
Above all else, the main thing to keep in mind is that this will make your property safer. The last thing you need is hazardous piles of twigs, branches and other debris. Anything with a sharp point can be a threat to someone's safety. Not to mention, piles of even just leaves can become home to and breeding ground for rodents, insects, and other types of pests.
Probably, next in line for importance, it rids your property of anything that could be considered a liability. Sure, you don't want anyone hurt on your property but you also don't want any possibility of being held legally responsible for anything financially connected to your land.
Of course, it also helps your place look better. What's the point of investing money into professionally landscaping to have piles of debris become the visual focal point. Beautify your yard and rid it of unsightly trash, even if it is Mother Nature's garbage.
Plus, it adds more space. It's not uncommon to find an otherwise well-designed and clean yard housing one seemingly permanent pile of debris. Once that's gone, you'll have so much more space. Whether you want to leave it open, add a shed, or add a water feature or hardscape, the choice is yours.

For stunning results from a skilled Richmond landscaper, contact SS Grading, today.
If you're looking for a professional Richmond landscaper, then please call us today at 804-464-8456 or complete our online request form.