Have You Ever Seen a Road Renovation in Progress?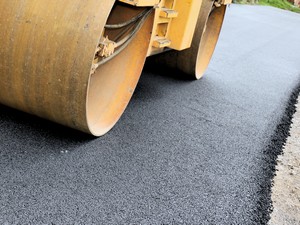 You may have noticed a vehicle on the tracks that is laying asphalt onto the road to strengthen it further. This is an important step especially if there's plenty of traffic coming and going on that particular road. Asphalt concrete is a combination of aggregates (stone or sand) and asphalt. Asphalt acts as the glue that holds all the materials together that forms the mixture. It is what gives this material its characteristic black appearance.
Asphalt Concrete
Asphalt is a durable and versatile mixture that is used in many facets of construction. Laying this mixture on surfaces has been used in residential and commercial applications. This enables the surface to have a smooth finish for vehicles to tread upon without problems.
Driveways, parking lots, airport taxiways, highways, playgrounds, and courts – these are just some of the surfaces that can be given a renovation by using asphalt.
Aphalt Pavers
Richmond Asphalt pavers are vehicles that lay asphalt on the ground. It is usually preceded by a dump truck which supplies the material and followed by a roller to press the hot asphalt flat on the ground.
Contractors are available that offer Richmond asphalt pavers as part of their service. They are often hired by commercial establishments and local governments to treat road surfaces. Residential services is can also be provided by these contractors.
Although strong enough to last for years, asphalt failure can occur. Problems that can be seen include cracks, potholes, corrugations, and unraveling of the smooth surface which leads to the exposure of the aggregates beneath the mix. Common causes of these issues with asphalt include traffic load, weather, poor drainage, deficient sub-grade material, and poor mixture.
How Asphalt Works
The initial process in laying the mixture says a lot about the quality of the results. Before the laying of asphalt, the surface should be prepared well. This includes filling up any existing cracks on the surface. Ideally, the mixture should be laid on a clean, dry surface.
There are a number of factors involved in curing such as weather conditions, the characteristics of the aggregate and mix, and the amount of force behind the placing and compaction of the mixture. However, the surface can be used in as little as 24 hours after the asphalt is laid.
Asphalt is a proven mixture that can last for years. However, it does need proper placement for it to last. Richmond Asphalt pavers play a key role in the quality of the resulting surface.
If you're looking for a professional Richmond landscaper, then please call us today at 804-464-8456 or complete our online request form.